The story so far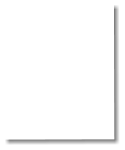 On Air
Over 40 years ago, a local newspaper report changed Pat's life...
© Freehold Media Limited 2020
Had it not been for an article in the South London Press, Pat may never have stumbled into radio. Back in 1975
the newspaper report that sparked Pat's interest, focused on a new radio service that was to be launched at
Dulwich Hospital, just a couple of miles from Pat's family home in Peckham. He originally went along offering to
help out with vital fund raising behind the scenes, but after being auditioned for a programme, was given a regular
weekday show.
Over the next 6 years Pat's new hobby turned into an obsession. Almost all of his spare time was devoted to
producing and presenting programmes for listeners in Dulwich, then working at Radio 9 in Tooting and later, at
LHB based at Archway in North London.
During this time he met and became friends with Adrian John, who was to go on to host the Early Breakfast Show
on Radio 1. At the time Adrian was working at Radio Topshop, in Oxford Circus, one of the first custom made
radio services for shoppers at the time. Pat approached another group of stores to offer a similar service to their
branches in Oxford Street, Carnaby Street, The Strand and High Street Kensington in central London. They
jumped at the idea, and Pat spent the next couple of years producing individually recorded radio programmes
from his own studio, which entertained many tens of thousands of shopper's week in, week out.
In the early 80's, shortly after returning from a contract
which saw him working as a DJ aboard a large cruise liner
in the Mediterranean, Pat was prompted by a friend to
send a tape of one of his hospital radio programmes to a
BBC station, just to see what reaction it might get. As Pat
was presenting a breakfast show at the time, he sent his
tape along hidden inside a box of Cornflakes. Luckily the
Programme Manager at BBC Radio Medway, an inspired
man called Clive Lawrence, liked the tape and recorded a
job offer which he returned to Pat in a box of All Bran!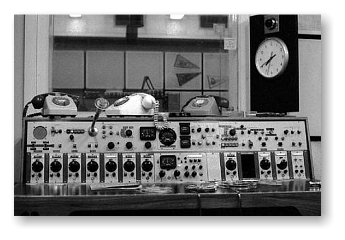 Pat had chosen Medway because his Grandparents had recently moved to Kent and he was growing to love the
county, where he had spent every summer holiday since being a youngster. Clive explained that although there
were no vacancies at BBC Radio Medway at that time, he was willing to use Pat as a holiday stand in for their
afternoon presenter, John Thurston, who was about to take a two week break.
Over the next few months Pat was used quite often as a fill- in presenter covering afternoons, breakfast and mid-
morning shifts. It was on one of these programmes that Angela Bond, Kenny Everett's producer at Radio One,
heard Pat and recommended he be given the Saturday Breakfast Show on a permanent basis.
Over the next six years, Pat pulled in record audiences for that timeslot. He introduced many new features
including the popular Kids Call, where youngsters were invited to phone in, and share their news and jokes. The
best joke teller was then invited into the studios to co-host the show the following week. The simple idea proved
successful for many reasons; the kids loved hearing each other on the radio, the 'ahh factor' appealed to parents
and grandparents alike, and everyone loved the spontaneous moments that just couldn't have been scripted!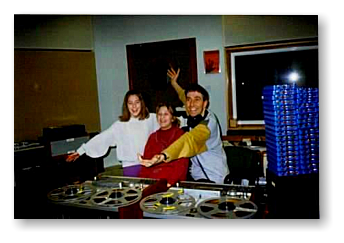 Pat also embraced the unpredictable when, after a few months on Saturday Breakfast, he was asked to also take
on the 8-10pm, Monday – Friday phone in show. The programme quickly became an appointment to listen. The
show soon established itself as a popular one for truckers, night workers and those looking for something a little
more challenging than just a night slumped in front of the box.
The programme was a mix of phone calls and music, together with a nightly edition of an original comedy soap
opera, which centred on the lives of local personalities and events from the news of the day. Many listeners at
the time said that the programme felt like a club, where the only qualification of membership was simply turning
on. Pat also began to broadcast a series of 'wind-ups' recorded earlier in the day, when he and his production
team would turn up incognito at a listener's workplace or home under the guise of random and bizarre excuses.
The show soon developed a cult following and after just over a year, Pat was asked to move to the prime time
Mid-Morning slot. Over the next few years Pat established a stable of entertaining characters that each brought a
unique aspect to the new show.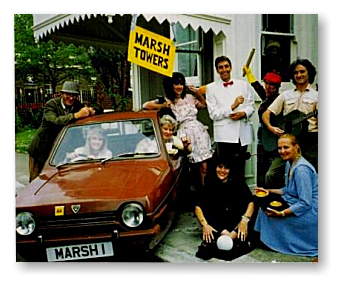 Chambers, Pat's dependable and long suffering butler, who did his best to keep order, was played impeccably by
Chris Knox Johnston, brother of the world famous yachtsman Robin.
Mo Meadows, the rustic country bumpkin had countless original shaggy dog stories, which always had a
wonderful whimsical touch of the surreal about them. Mo was the creation of an extremely talented comic actor,
the late Brian Arnold. His humour touched both young and old alike.
The magnificent Radio Chef, June Care, who
inspired thousands with her mouth watering
Kentish recipes, cooked live on air. June was a
fantastic woman and widely respected as one of
the Counties finest chefs. Sadly June passed
away in April 2009, three days after her final
studio broadcast; she had been suffering from
leukaemia of the bone and was due to have a
bone marrow transplant.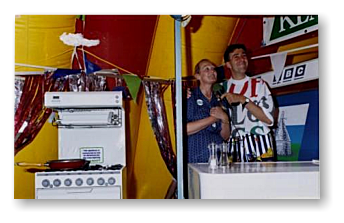 Wendy's House was an end of the week round up of the extraordinary life of an ordinary Kent housewife. The
fictional diary was carefully crafted by local writer Barbara Trigg. It followed the highs and lows of Wendy's life, as
she battled against the frustrations of living in Medway in the 80's. It was part autobiographical and always
extremely funny.
Barbara also wrote the book 'Letter to Marshy - Postcards from the dregs' a collection of the best examples of the
letters Pat received
on the show. The book celebrated the listeners' comic creativity on a huge range of
subjects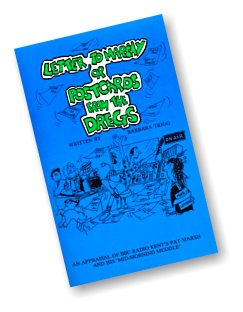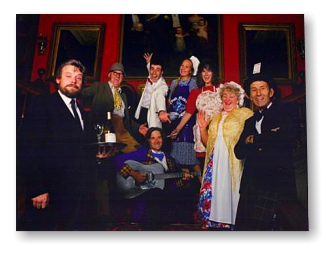 Like all of the characters that appeared on Pat's show at the time, Rosie Beer started as a casual listener who
then felt motivated to become part of the programme. Rosie always enjoyed writing poetry and after her husband
sent in an example of her work, Pat offered her a regular slot and she fast became one of the most popular
contributors to BBC Radio Kent. Rosie's ambition was later fulfilled, when a book of her poetry was published. It
was expertly illustrated by her loving husband Mic, who was a skilled cartoonist, and captured the spirit of The Mid
Morning Mob.
Another popular listener turned celebrity, had considerably less success with the readies. Racing Reg worked for
a local bookie and had done so for many years when he called Pat up one day, with a hot tip. His cheeky
cockney charm was an instant winner, even if the horse wasn't. Pat invited Reg back the following day and said
that by way of an experiment to check his abilities as a tipster, he would give him £100 in imaginary notes and see
how long it would take Reg to lose the lot. As it turned out, Racing Reg not only hung on to his imaginary pot, but
saw it grow to nearly £1,000. Both Reg and Pat were keen to point out, that they weren't encouraging listeners to
waste their widows' mite on Reg's tips, although quite a few callers often phoned to thank Reg, when their flutters
eventually romped home. Of course Reg's run of good luck soon evaporated, but by then, he was well
established as a much loved favourite on Pat's programme.
Monty Parkin supplied many of the musical masterpieces that set the show aside from any other. His topical
jingles and political parodies passed edgy comment on life in Kent and hit many a cord with listeners across the
County. Monty's songs were also heard nationwide, when they were picked up and used on BBC Radio 4.
Although she was hardly ever seen in public, Miss Prudence
Peabody was the spinster of this parish and Pat's producer. Her
exasperated tone would often cut through the ether as she barked
orders at Marsh from beyond the glass. She would stand for no
nonsense and was immortalised by model maker and artist Stan
Moore for the Mid Morning Show's Crazy Calendar.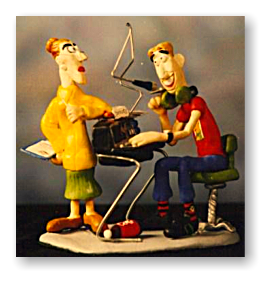 Stan, a talented listener from Herne Bay, had got in touch with Pat to suggest that a calendar which showcased
some of the characters and situations that had arisen over the past year might "raise a few bob" for the BBC
charity Children in Need. Thanks to the backing of a local printer, the idea became a reality and the 2000 copies
sold out within a couple of weeks. Listeners were invited to donate whatever they could spare for the charity in
exchange for a copy of the calendar. Donations ranging from 20p to £50 came flooding in. Such was the
success and popularity of the Crazy Calendar that it raised well over £25,000 for Children in Need, thanks to the
tremendous generosity of Pat's listeners and the inspiration of Stan The Man.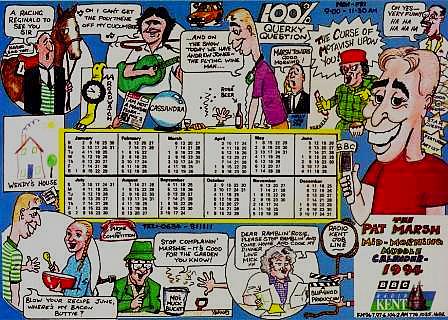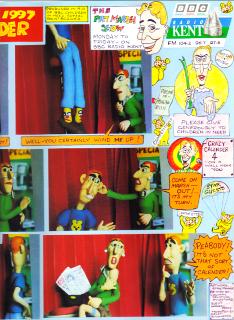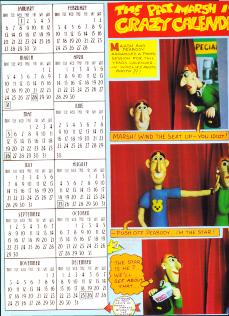 Into this mix of characters, callers, oddball jingles and listeners letters came Pat's Phantom Phone Box, Food
Critic Steve 'Bloater' Graham, countless loyal Weathergirls and "The Curse of McTavish" which was inflicted on
dedications that included the dreaded phrase "…and anyone else who knows me".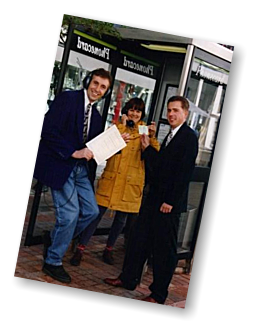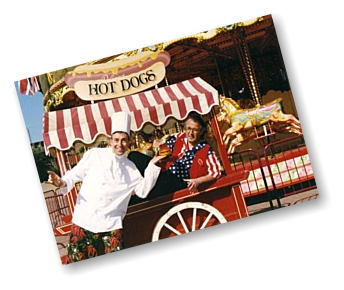 The programme prompted a stage production with Pat and his Mid Morning Mob appearing together in a specially
written two hour theatre show, along with several spin off audio books, pantomimes and videos.
The programme was honoured with an award in the category of 'Best Magazine Programme' at
the international radio festival in New York beating stiff competition from around the world.
The publicity surrounding the programme, together with Pat's creative freedom, resulted in
record breaking audience figures for Mid Mornings on BBC Radio Kent.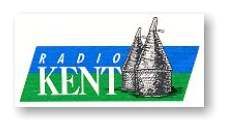 In more recent years Pat introduced 'The Challenge' an idea which involved breakfast presenter John Warnett
setting Pat's listeners a set of tasks to complete as quickly as possible. The feature proved to be a fantastic
opportunity to share in listeners unique stories.
Pat has always thrived on Outside Broadcasts. He has produced programmes from stately homes in his red C5,
Albert Square in EastEnders and, of course, the Kent County Show.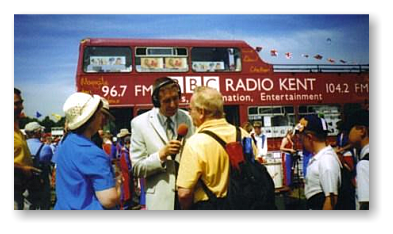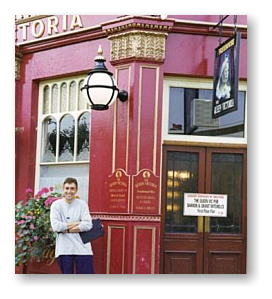 In 2006 Pat was asked to step into the 10am – 1pm slot on Saturdays too. Originally planned to only fill a gap in
the schedule of three weeks, until a new presenter was employed, the show went from strength to strength and
lasted three years!
Pat developed a programme that took
audience participation to a new level. With
the help of Pat's Patrol Team much of the
show was generated by real people's
opinions and stories from the streets of the
county. It's was a fast moving, vibrant
additive listen which highlighted lifestyle and
current trends in Kent.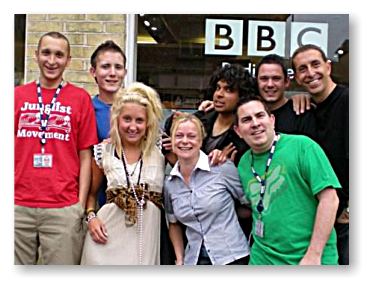 Over recent years BBC Radio Kent has gone through a series of changes in management, direction
and emphasis. Since the start of 2008 Pat has been hosting the stations weekday afternoon
programme, The show is currently a mix of music, guests and some spectacular moments of
unpredictable spontaneity, between Pat and his producer Laura.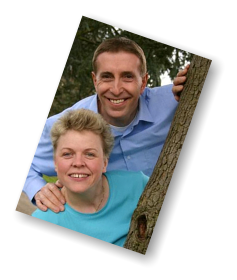 In October 2009, Pat was delighted to help build a new programme, Saturday Breakfast, 6 - 10am, which he
co-hosted with Lynsey Butler. Local and national news is at the heart of the four hour programme, but it is
complimented by some of the best music ever produced and all the information you and your family need to
get your weekend off to a flying start.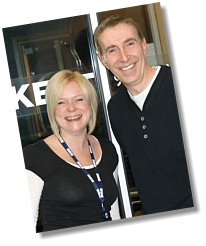 Apart from the radio show, Pat & Lynsey also appeared at a variety of Kent events together.
At the start of 2014 a Double Headed Afternoon show was introduced to the schedule. It brought
together Pat & Steve Ladner for a four hour extravaganza which proved to be a huge hit with listeners.
The genuine chemistry between the two, resulted in Pat becoming a proud Godfather to Steve's son
Freddie in 2016.
As a result of the Covid19 pandemic, all BBC Local Radio schedules were
changed across the country in March 2020. For safety reasons Double Headed programmes
were cancelled and Pat now presents solo on BBC Radio Kent, Monday - Thursday 2 - 6pm and on
Saturday Breakfast from 6 - 10am.


Chambers, Mo, Marsh, June, Wendy, Rosie & Reg
with Monty on guitar
June Care and Pat cook before an audience
of hundreds at the Kent County Show
At home with The Mid Morning Mob
Pat welcomes Joanna & Natalie to 'The Kids Call'
The desk that faced Pat when he joined BBC Radio
Medway was so old, it was in black & white.
"And tell me, is she wearing that hat for a bet?"
"Oi you ... get outta my pub!"
Brett, Adam, Amy, Lynsey, Rupert, Tim, David & Pat
The Patrol Team